Discover Who Needs It, Benefits, and How to Choose a Facility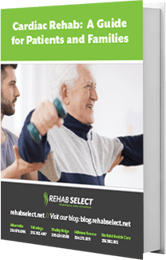 Your physician recommended cardiac rehab—now what? This comprehensive book answers every question you will have at each stage of your therapy. We'll cover the different reasons you might need cardiac rehab, what to expect during treatment, and how you can benefit from the rehab program.
Our eBook will help you understand:
Why was this program suggested for me? 

Find out the main reasons why cardiac rehab is needed.

What can I expect from an excellent program? 

Take a detailed look at the four phases of cardiac rehab, beginning with acute clinical care to post-rehab maintenance.

What about inpatient or outpatient intensive cardiac rehab facilities? 

Learn why this stage is key to recovery and why it's important for your therapy to be customized, progressive, and supervised.

What are the benefits that I can look forward to gaining? 

Read about six proven health outcomes that a recovery program should provide.
Having a clear idea of your treatment goals is the best path to success. Download our free guide to take charge of your recovery today.