Learn who can benefit from memory care, what to expect, how to pay for care, and the right questions to ask to ensure the best care plan.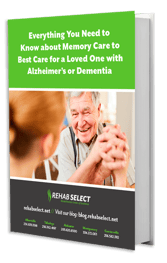 Living with Alzheimer's or dementia is incredibly challenging. But it can be even more difficult and stressful to care for a loved one suffering from these conditions.
That's why many caregivers turn to professional care to help relieve the burden of care and improve their loved one's quality of life. Inpatient memory care provides patients with more specialized services than can be provided at home within a communal living environment.
If you're considering a memory care facility for a loved one with Alzheimer's or dementia, make sure you understand the services they provide to help with choosing the right provider.
It's important to understand how memory care facilities can support patients, as well as their families and primary caregivers. To choose the right memory care facility for your loved one, it helps to have done your homework. Don't worry—we have you covered.
We created this guide to answer the most common questions about memory care services for people with Alzheimer's or dementia. In the eBook you'll learn:
What is the difference between occupational and physical therapy (and why they are complementary)?

What security features and medical resources do memory care homes provide? 

How do memory care facilities support patients' family members? 

How can you best care for someone with dementia? 

When is the right time to take a loved one to a memory care facility? 

What questions should you ask when visiting a memory care facility?


What funding options are available to pay for memory care services? 
There's a lot to consider when it comes time to get help in caring for a loved one with Alzheimer's or dementia. Equip yourself with the information you need to find the best memory care services—download our eBook today.