Learn How Short Term Care Helps Patients and How to Choose a Program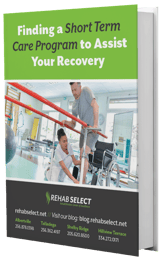 While every patient's needs will vary, there are a few things everyone should know about short term care. Regardless of the reason you need a short term care program, you can expect to receive individualized and comprehensive treatment, to ensure the best possible recovery.
A short term care program may include a few hours each day in a combination of physical therapy, occupational therapy, and speech therapy, along with 24/7 care. While short term care may last around 9 to 10 days, time spent in recovery will depend on each patient's situation.
In our guide you'll learn more about:
How short term care can help
Why patients need short term care
What you should know when searching for a facility
How to transition home after short term care
Fill out the form to download a complimentary copy of the eBook.