Learn Everything You Need to Know About Rehab for Injured Workers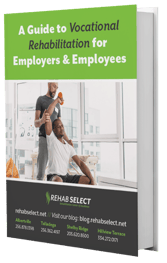 For employees injured on the job, it's important to start vocational rehabilitation as soon as possible. Before accessing care, however, you'll need to be aware of your options when it comes to workers comp. By having a workers compensation program in place, employees and their companies can ensure that the process will go smoothly, and workers are best positioned for recovery. 
In this guide, we share information for both injured workers as well as employers about how vocational rehabilitation can be essential to returning to work. Employers will need to understand not only how to handle compensation claims but also how to develop an effective and compliant workers comp program.
Our guide will help you understand:
How workers comp vocational rehab provides the best outcome

The importance of physical therapy

How long term disability may affect workers comp

How workers compensation should be managed in relation to rehabilitation

Cost considerations for employers

How an effective workers comp program helps employees
Fill out the form to the right to download a complimentary free copy of our Vocational Rehabilitation eBook.